Nursing Doula Yokohama Aoba
Home-visit type prenatal and postnatal care by nurses
* As of January, due to the rapid expansion of the 6th wave of Corona, refrain from visiting homes with symptoms such as fever, cough, sore throat, and dysgeusia until the end of March, 4th year of Reiwa. In addition, we will refrain from visiting the homes of people who are suspected of being corona-positive or close contacts. ​
Thank you for your understanding.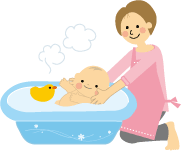 Because it's a nurse
Supports the whole family.
Childcare, housework, and nursing.
Counseling on childcare and health.
Rest assured in case of emergency.